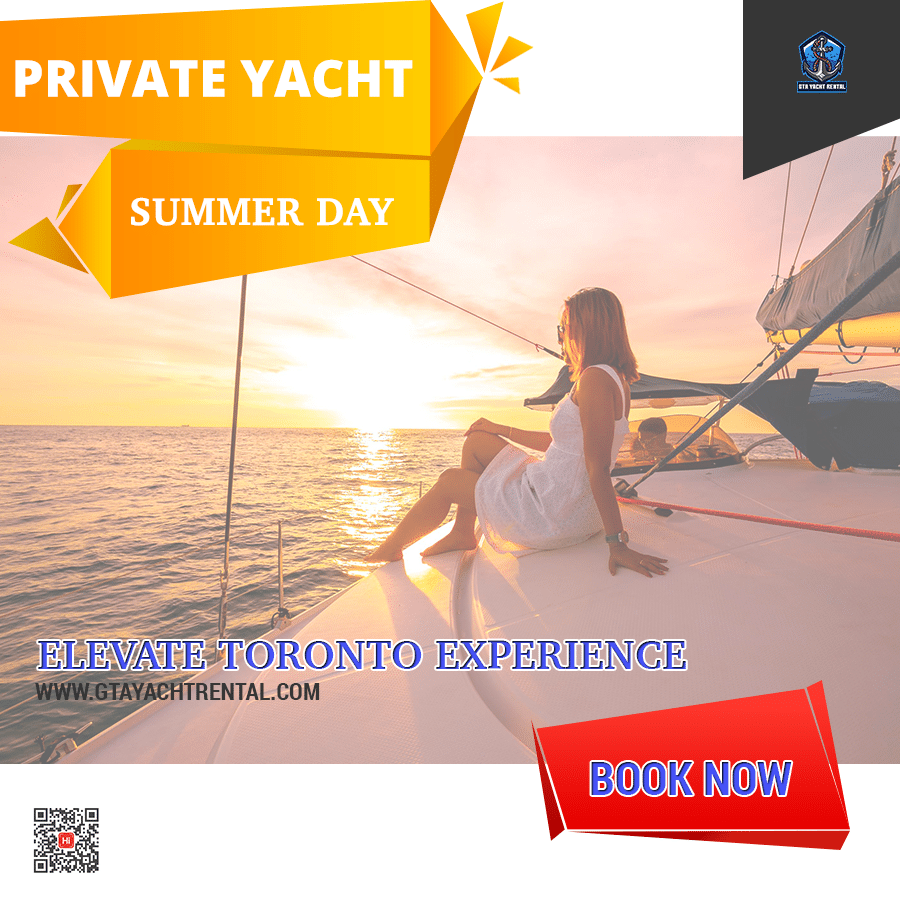 What To Do In Toronto – Luxury Yacht Rental
Introduction:
Welcome to GTA Yacht Rental, where we offer unparalleled luxury and exclusive experiences in Toronto. Our private yacht rentals cater to high-end clients who seek elegance and indulgence. With the industry's largest yachts available throughout the Greater Toronto Area (GTA), we provide a unique opportunity to explore the city's stunning waterfront in style. Join us as we uncover exciting activities in Toronto while indulging in the ultimate luxury of our yachts.
Unmatched Luxury and Exclusivity:
At GTA Yacht Rental, we understand our discerning clientele's refined tastes. Our meticulously designed private yacht rentals provide the highest level of luxury and exclusivity. Step aboard our magnificent yachts and immerse yourself in a world of opulence, comfort, and impeccable service. Experience spacious interiors adorned with lavish amenities and expansive decks perfect for socializing and enjoying breathtaking views. Our yachts set the stage for unforgettable experiences.
The GTA's Largest Yachts:
When it comes to yacht rentals, size matters. We take pride in offering the industry's largest yachts throughout the Greater Toronto Area. Our impressive fleet ensures ample space for relaxation, entertainment, and the creation of cherished memories. Whether you're hosting a lavish celebration or seeking a peaceful escape with loved ones, our spacious yachts provide the perfect setting for any occasion.
Expert Captain and Crew:
To ensure a seamless and exceptional experience, our yachts come with experienced captains and crew members. Sit back, relax, and let our skilled professionals navigate the waters while attending to your every need. Our dedicated team is committed to creating a memorable journey for you and your guests, providing expert guidance, sharing local insights, and delivering impeccable service.
What to Do in Toronto:
While aboard our luxurious yachts, you'll have the opportunity to discover the vibrant city of Toronto and its myriad attractions. Here are a few recommendations for your Toronto itinerary:
Explore the Toronto Islands: Cruise along the scenic Toronto Islands, a tranquil oasis just a short distance from downtown. Enjoy stunning views, stroll along the beaches, and indulge in a picnic amidst nature.
Visit the Harbourfront Centre: Dock your yacht at the Harbourfront Centre and explore its lively promenade. Discover art galleries, catch live performances, or simply soak up the vibrant waterfront atmosphere.
Marvel at the CN Tower: Experience the awe-inspiring CN Tower, one of the world's tallest freestanding structures. Take in panoramic views of the city from the observation deck or enjoy a fine dining experience at the revolving restaurant.
Immerse Yourself in the Distillery District: Step into history and charm at the Distillery District. Wander through its cobblestone streets, admire Victorian architecture, and discover art galleries, boutiques, and unique dining options.
Embark on a Toronto Skyline Cruise: Witness the breathtaking beauty of Toronto's skyline from the water. Cruise along the shoreline, capturing panoramic views of the city's iconic landmarks and architectural marvels.
Conclusion:
Indulge in the epitome of luxury and sophistication with GTA Yacht Rental in Toronto. Our private yacht rentals cater to high-end clients seeking exclusive experiences. With the industry's largest yachts available throughout the GTA, accompanied by experienced captains and crew, we offer unparalleled indulgence on the water. Discover exciting activities in Toronto while immersing yourself in the ultimate luxury of our yachts. Create unforgettable memories and embark on a journey of opulence. Contact GTA Yacht Rental today and elevate your Toronto experience to extraordinary heights.